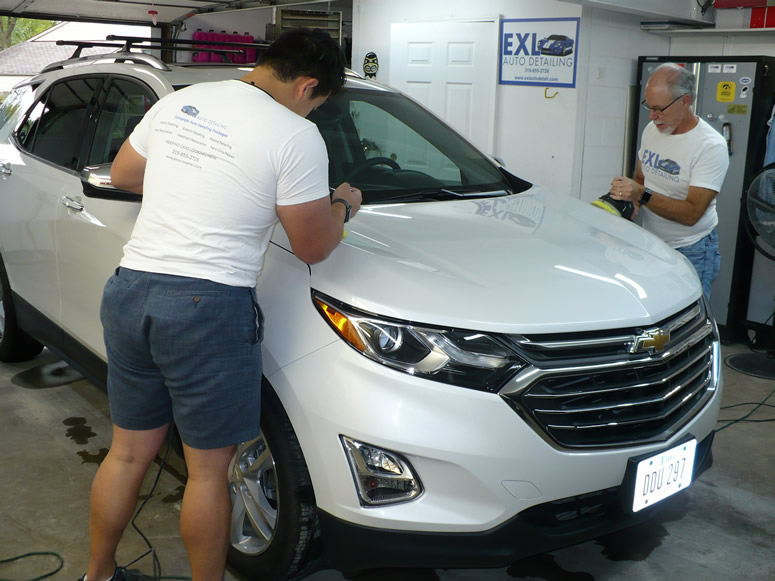 This package starts with a hand-wash, clay bar treatment, and decontamination. It's critical to get the exterior as clean as possible before beginning any paint correction. We, also, clean the wheels during this washing stage to remove all brake dust and road grime. We, then, begin the paint correction process. There are (generally speaking) two types of Paint Correction, Single-Step and Two-Step. A single-step correction entails polishing the paint using a fine or medium pad on the buffer paired with a fine or super-fine polish to remove light swirls and restore the brightness to the paint. A two-step correction begins with using a "cutting" pad (foam or microfiber) on the buffer, paired with a heavy compound or correction cream, to remove deeper scratches and abrasions. It is important to note that all defects cannot be removed during paint correction. Scratches that are through the clear coat into the color coat, or deeper, cannot be removed. Scratches that are deep into the clear coat can usually be taken down far enough to make them nearly unnoticeable without removing all the clear coat. This step is, then, followed by the polish step described earlier to restore the shine after deeper correction is performed. We, then, apply a polymer sealant using a fine pad on the buffer. All exterior chrome is polished, even the tailpipes if they are finished or chrome, and an exterior dressing applied to the trim, and tire dressing on the tires. Rock chip repair and paint touch-up can be incorporated into the Ultimate Package. Advance notice is required to ensure necessary supplies are available at time of service.
Then, the interior is thoroughly cleaned and rejuvenated. We start this process with thoroughly vacuuming the interior and using compressed air to blow out the dirt that is trapped in those tough to reach areas, like between the seats and console.
We then use a hot water extractor to clean carpets, carpeted mats and fabric seats. It is during this process that we treat for stains. While not all stains can be completely removed, we are remarkably able to remove most all with the exception of those that are deeply set and/or contain red dyes and such.
Leather seats are cleaned and conditioned. All other interior surfaces are cleaned and disinfected with a UV protectant applied.
We, then, finish with cleaning the windows.
Our Prices are:
The Ultimate Package: Full Enhancement (1 Day):
Small Vehicle .................. approx. $500.00
Mid-Size Vehicle .............. approx. $700.00
Over-Size Vehicle ............ approx. $900.00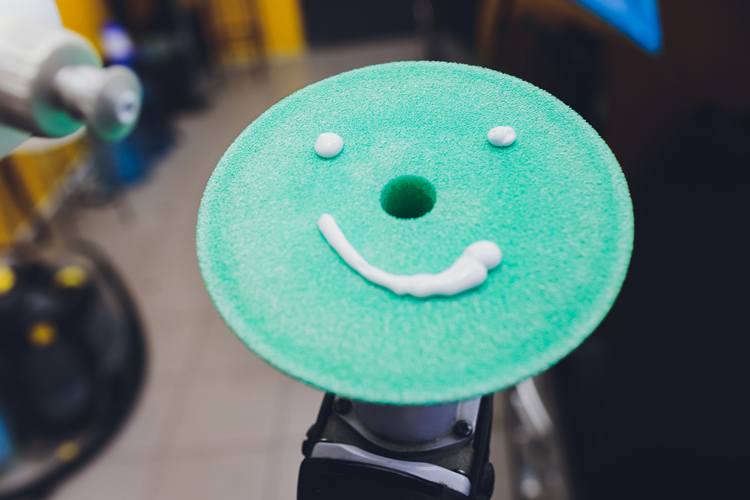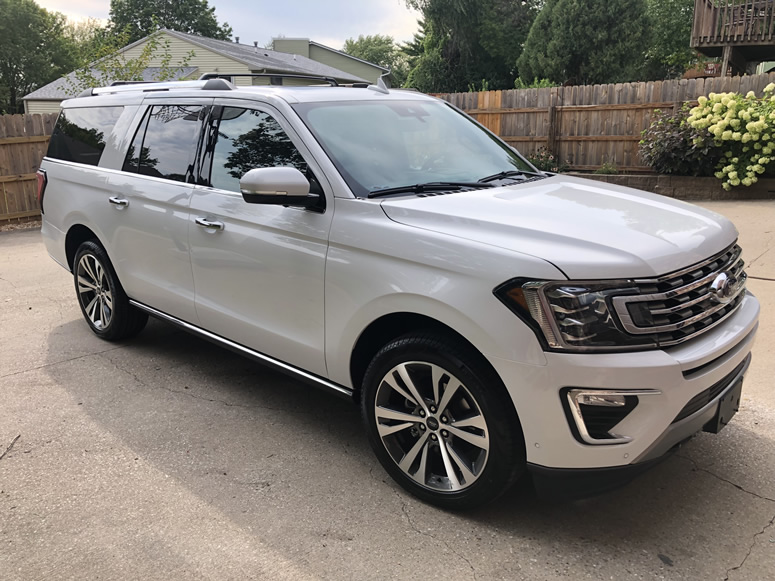 Our Essentials Package is very similar to the Ultimate Package but does not include all the paint correction. This is our most requested package and is great for vehicles that don't have many scratches and abrasions or that need extensive paint correction. You get the same hand-wash, clay bar treatment, and decontamination polymer sealant applied. Your engine bay and wheels are cleaned, chrome is polished and the windows cleaned. The interior receives same deep cleaning as described above in the Ultimate Package.
Our Prices are:
The Essentials Package: Full Maintenance (6 Hours):
Small Vehicle .................. approx. $250.00
Mid-Size Vehicle .............. approx. $300.00
Over-Size Vehicle ............ approx. $400.00
"The Basics Package", as the name implies, is a basic cleaning of a vehicle. It entails a hand-wash with a mild detergent, microfiber wash mitt, and hot water to clean the outside - including the wheels. We dry the vehicle with soft microfiber drying towels. Inside, we vacuum the carpets and mats, wipe down the interior (dash, console, gauges, door panels, etc). with a gentle cleaner, and clean the windows.
Our Prices are:
The Basics Package: Approximately 1 Hour:
Small Vehicle .................. approx. $50.00
Mid-Size Vehicle ............... approx. $75.00
Over-Size Vehicle .............. approx. $90.00